With the fluctuations of activity and prices in different parts of the Province, Real Estate has yet again become a hot topic! The stock market and interest rates have continued success on making the news and even reality TV shows. When a stat is spat out it can send buyers and sellers into a frenzy, buy / sell. Move up move down, abandon or flee!
As stats can be skewed and real estate information is localized in nature it can often be inaccurate to take something that is happening in a different market and relate it here in the Okanagan. Vancouver, even though it's just a few hours away, has a very different market with very different buyer profiles. Even local general statistics can be skewed by a large waterfront sale, series of Foreclosures in one cluster of the market (more recently the Holman properties in Naramata reflecting acreages in receivership), and fire sales.
I recently was at a clients home and she informed me that "all the real estate in Summerland was going up and going up fast." As an anxious seller this was reason enough to ask a premium for her home. I asked her where she had heard this information. She said it was from an agent at an open house. I mentioned that the inventory levels of new listings supply was heavy and most listings come on at this time of year. The prices realized through the sales are a different story. She pondered for a moment and said "maybe that is what they are referring to." If you hear something real estate related; consider the source and the context (and maybe ask for some proof!)
I have been professionally involved in 2 sales this year that both sold a few years ago. I was acting as an agent for both these properties when they sold in 2007 and then the same home again in 2011. Both are similar in price and you can draw your own conclusions of today's Penticton real estate market relative to the past few years. (with some ammo!)
My conclusion is that there has never been a better time to buy. I am working with some friends right now who are looking to buy their first home and they have lots to choose from at this special time in their investment lives.
Real estate for investment has to be carefully selected, well understood and based on personal objectives- flipper, move up/down buyer, or investor.
Blairmore sold in 2007 and 2011 showing, same time of year. Blairmore had some improvements and still showed a loss of $56,600.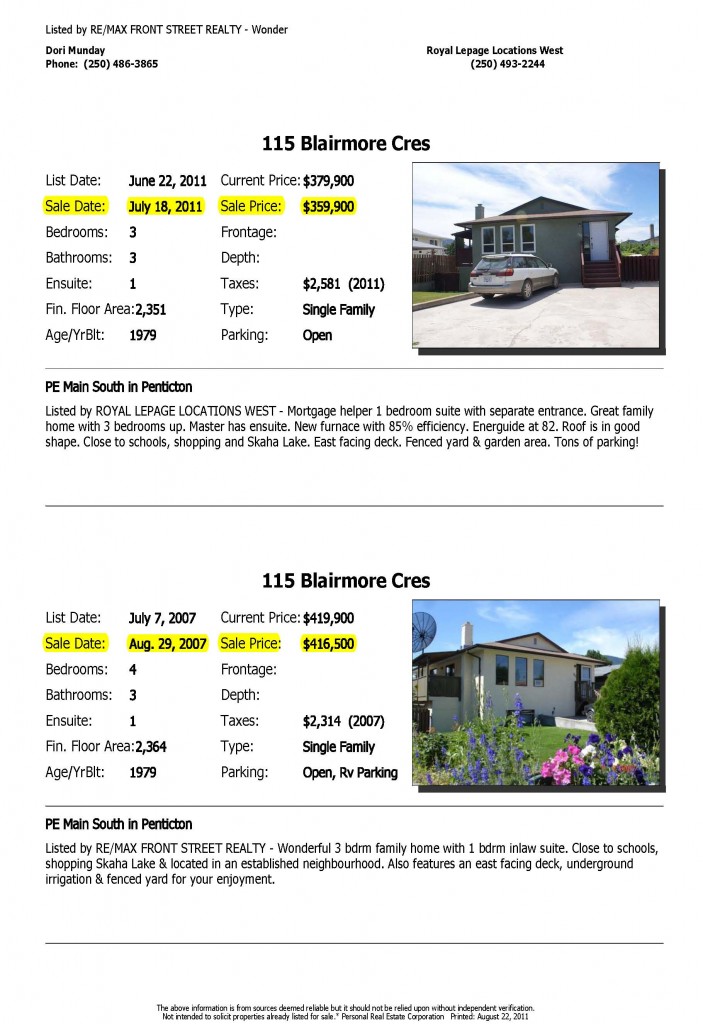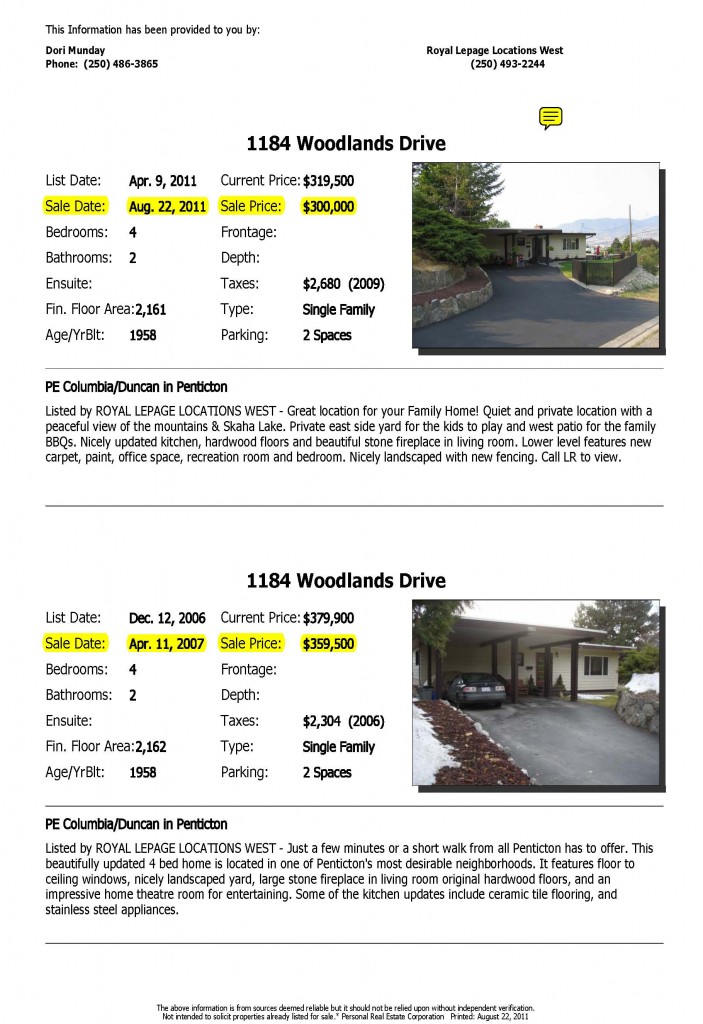 1184
Woodlands Sold in April of 2007, in fact it had multiple offers and Sold for $359,900. 4 years later in August it sold for $300,000 a loss of $59,900.