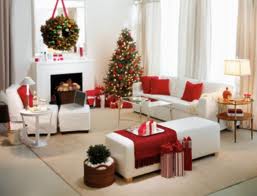 This is the 7th year that I will be bundling up and going through many homes that are offered for sale over the holiday season. Nobody wants to be the Grinch who stole Christmas but when you're trying to sell a home, too much holiday spirit can turnoff some potential buyers. Over the years I have collected some holiday decorating tips and thought I could share. If you are planning to list your home and not too sure on how much decorating read below:
6 Ideas to Holiday Staging
The key to holiday decorating is to keep the decor high quality and color-coordinated. If you plan on staging a home for the holidays, here are some important things to keep in mind.
Don't overdo the holiday cheer.
When the number of Santa statues start to outnumber the rooms in the house, you may want to start being more selective in what you display. Don't overwhelm the space with clutter; you want buyers to notice and appreciate the permanent features of the home. If your fireplace is almost impossible to see because your highly personalized stockings are blocking the view, then buyers will not appreciate this focal point for what it is.
Add splashes of holiday colors.
How about some holiday red? Psychology research on color responses has shown that warm colors, such as red, can increase excitement and energy in those viewing it. Pops of seasonal colors — such as red or green — add festive cheer to a home too and can be as simple as just adding  poinsettias throughout the home.
But when bringing in holiday colors, be careful not to clash with your home's current color scheme.  For example, if turquoise is the room's dominant color, you might want to hold off on adding bold holiday reds; try silver instead.
Stage for the senses and belly.
Get buyers in the mood, bake some gingerbread cookes, offer home buyers (and their Realtors®) some fresh baking. This is always appreciated and gets that Christmas baking smell we love so much throughout the home. Consider plastic cups and warm hot chocolate so the buyers take a moment to relax and take in the lovely features your kitchen has to offer. If there is a Realtor® tour planned this is most highly recommended just ask how many attendees there are and provide napkins!
Keep the tree simple, yet elegant.
The Christmas tree will likely be your biggest decor piece so it needs to make a statement. I personally like the frosted white smaller elegant trees. Ensure that the tree isn't taking up the entire living room or causing a cluttered look. If your tree is larger than six feet, consider removing a piece or two of furniture so the space doesn't feel crowded. And don't forget to use ornaments all in one basic color palette with "show piece" ornaments mixed in that add extra style.
Wrap up your family
If you have family pictures on the wall, wrap them as presents, I have had buyers just love this, do it in every room it is cheap and adds character. It also keeps the buyers from being distracted by looking at the family photos.
Give a holiday impression from the curb.
Twinkling clear, white lights (preferably non-blinking) tend to be the favorite among staging and real estate professionals for classy holiday curb appeal that adds a classic glow.  For a little extra curb appeal, it is always nice to hang a wreath on the front door.
Remove decor after the holidays.
* Most Important* Christmas in July isn't for everyone,  owners remove all holiday decor promptly by New Year's