Finally made it to Lakebreeze for a wonderful lunch.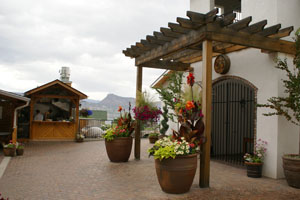 Okay so wonderful is an understatement. It always turns into an adventure when you take a good friend/business alliance to one of the coolest wineries in Naramata. Not only can you watch the progress of the new building going up you can't help but enjoy valley and lake views and  the lunch location is also dog friendly! I didn't bring my dogs (Merl & Karma) –  around food and fine wine the 80 lb mutts can't be trusted but feel free to bring yours!
I met up with Kelly Hood, a fabulous local designer who comes to her hometown to accommodate her staging and design clients of the Okanagan. She is currently living in Vancouver but needs a dose of the Penticton on a regular basis.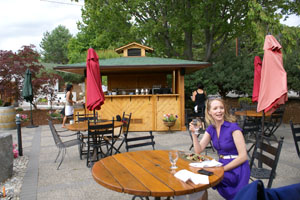 I highly recommend her if you are thinking of spicing up your home, getting it ready for sale or can't agree on colours with your significant other. Sometimes we trust our own instincts and like one colour a little too much,  like my mother for example. She redid the living area and chose white carpet, white paint with a hint of green and the accent wall…..wait for it….. white with a hint of pink!  When it was finished she was surprised at how white it all was….  Kelly would have  been a perfect match! After that experience I always recommend hiring a professional it's a lot cheaper than repainting/flooring a large room! Ask me about my free staging program when you list your home!
Our server was Carmen, another Penticton homegrown, she was fabulous and recommended a salad that I can't stop thinking about. I should have taken a picture for you all to see! I know that if you try this winery your will be 100% satisfied. The tables are equipped with umbrella's for those of you who don't need a tan and there are blankets in case the wind picks up so you can stay nice and warm. The food is to die for and the wine is award winning.  We took the opportunity to sample the whites and reds before our lunch so our beverage decisions were well educated before hitting up the patio for lunch.
We finished up the afternoon by stopping in at Hillside winery for a quick wine tasting where we ran into a large group of tourist tasters.  Both locals and tourists get great service but the hosted tour groups really get an in depth explanation of the wine  history and grape varietals. We purchased the Gewürztraminer and Muscat. Hoping this years is as good as lasts. Hillside Winery also features a restaurant- I will need to further my blog with a review before the summer is over. Don't miss your wine tasting opportunities while you are in the Okanagan!    Click Here for  a list of local wineries and maps.