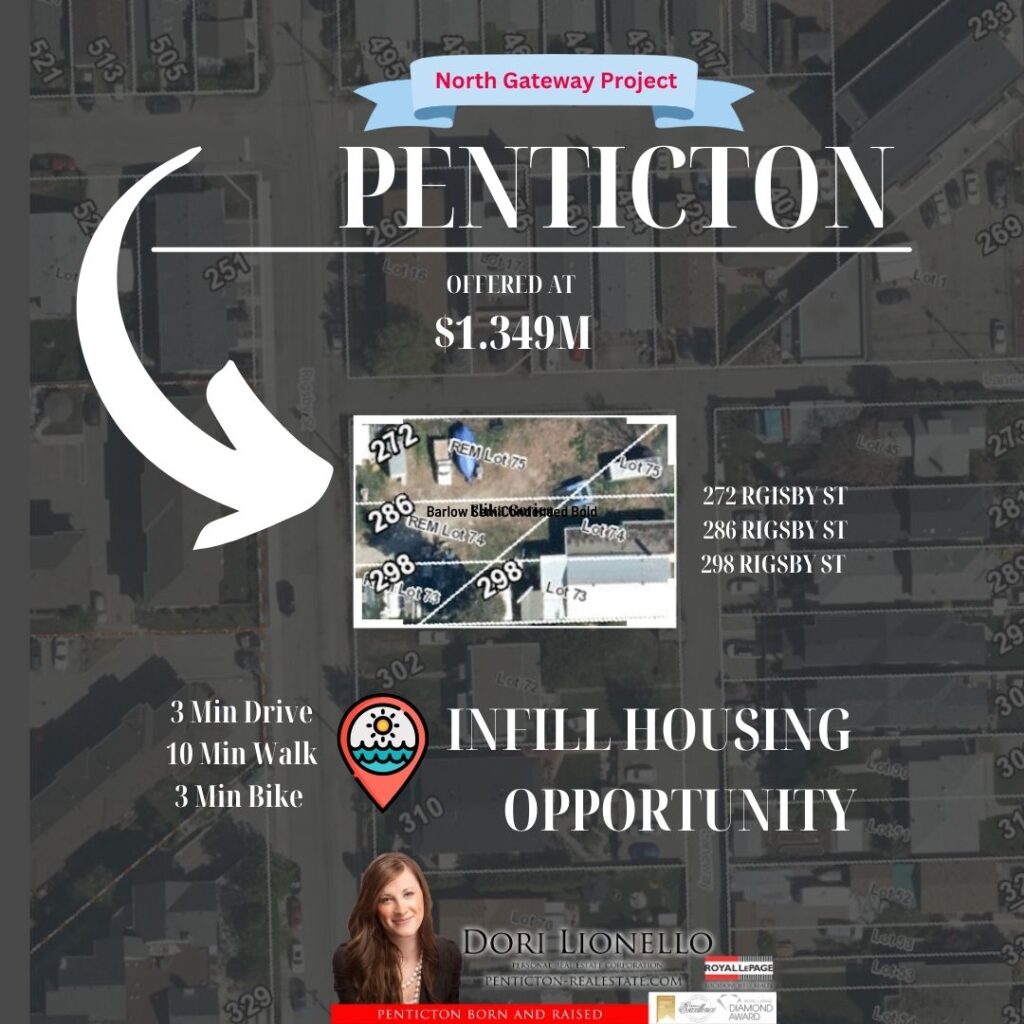 Penticton Needs More Inventory
Federal Incentives now in place for municipalities to increase "affordable housing."
I have pleaded with the owners of this lot to build out townhomes!
Penticton City Planners are familiar with this lot and its' potential for re-zoning to high density condos.
Currently commercial on bottom and residential above, which is more likely to be converted given new initiatives, incentives to build affordable homes.
Across the street on Rigsby are rental townhomes. Neighboring lot is also up for acquisition aprox $775k
which would increase the total potential to .5 acre.
(unrepresented and information purposes only- single family dwelling)
City planners, (bless their hearts!) have sent this listing recommending its location for multifamily infill development.
We have rare unique zoning as it is – rezone process is encouraged for highest and best use.
C6 linked below allows for commercial on first floor and residential above.
Potential to review with planning staff for rezoning to accommodate what your specialty is, we need condos and townhomes!
Comparable SOLDS in the immediate area range from condos $500/sq ft to the Lakeshore towers now seeing $770/sq ft.
PS: I still prefer they build this out, however given their instructions from the Apex chair lifts only 35 minutes away, I am to spend my off mountain hours allowing others to investigate their build careers and they will let this chunk of downtown vacant land go and leave some money on the table for the next
Zoning allows for a multitude of commercial and residential options
.364 acre
Potential for neighbouring lot (.20 acre tenanted home)
City supports and wants to see this lot developed!
101 x 157 Lot Dimensions
We felt there would be a great opportunity and zoning / OCP would favour commercial garges and residential suites above
Site is a fantastic location for townhomes, we feel there could be minimum 9 to 18 with City confirmation
6 lots, potentially a good idea to move lot lines to accommodate duplexes with strata freehold oppportunites