I found my perfect investment condo in the most desirable area of town! It may be my dream condo, but it actually became a clients first home! Right now, we can watch buyers take the best pieces of real estate at the cheapest prices we have seen in years! I had way too much fun working with this fun young couple picking out their first home. We looked at single family dwellings in Penticton and Summerland , but we also looked at new and older condo's since they have plummeted in price. After they found their dream home, we enjoyed an evening of laughter at the Comedy Festival, I never wanted it to end, but for the time being their home search is over.
We found this spectacular condo done up by an interior designer. It was so perfect I almost wrote my own items into the contract but felt that wouldn't be appropriate (yes I am talking about the silver pear in the living room)!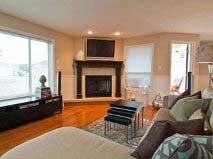 We had our home inspection completed by a gentleman who had completed over 4000 inspections in the Okanagan, yet he had never been in this complex! It is hidden away in Uplands on a quiet street called Farrel.
In the end, as sad as it is to not be showing homes to this funny, talented couple, I will be attending their house warming and in awe of the one that got away (and ended up in well deserving hands)!
Congratulations, I know you made a spectacular decision!